FoodTech Qld is THE trade event for Queensland's food processing industry – a showcase of new products and manufacturing equipment. Wiley is exhibiting and presenting at the event. We love sharing knowledge from these events with our network to help us all reach peak performance and ensure our global food security into the future.
FoodTech QLD kicked off at the Brisbane Convention and Exhibition Centre showcasing products and services relating to food processing, ingredients, packaging and labelling, as well as plant equipment including heating, refrigeration, lighting, safety equipment and waste solutions. The event will also include industry trends concerning food science and technology, including lab equipment, testing and monitoring equipment.
There was a flurry of media on the first day, Wiley's Commercial Technology Director, Brett Wiskar was interviewed by Channel Ten. They focussed on the topic of his impending presentation: nine 9 billion reasons to re-think smarter food solutions. You can watch the national story below:
Aussie businesses are trying to find new ways to meet the surging demand from #Asia for our food. #TenNews https://t.co/6I2RKsHtoI

— TEN Eyewitness News (@channeltennews) June 26, 2016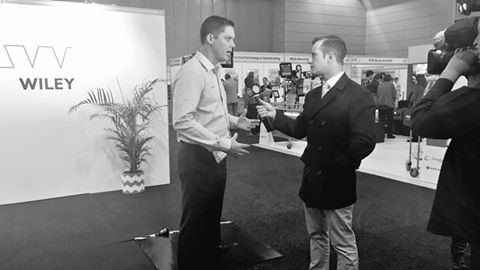 Wiley Senior Process Engineer, Scott Hebbard, who was exploring the halls, learnt about Energy, Efficiency and Future Proof Technologies in Heating, Cooling and Freezing from Michael Bellstedt of Minus 40 during his seminar. He shares with us some of his key learnings below.
 "Energy, in the form of electricity and gas, is one of the largest business costs in the food sector. Rapid technology change in the provision of heating, cooling and freezing can substantially reduce these costs, whilst also locking in future-proof systems immune from future regulatory impacts. These new technologies include CO2 heat pumps to generate high temperature water very efficiently, natural refrigerants that minimize energy use for cooling and freezing, solar power generation integrated with cooling and heating systems, heat recovery systems to re-use energy for hot water generation, heating systems to minimize energy consumption and peak demand, and thermal storage systems and modern control solutions to smooth out peak energy use."
This seminar provided an overview of the current state of these technologies and modern control systems that optimize the way these systems interact. In terms of efficiency and cost savings, the low hanging fruit for the food industry includes defrost management, anti-fog coating of doors, implementing Led lighting, relocation of solenoid valves from condensing units, insulation improvements, infiltration control and night blinds on display cases.
Key disruptors in the industry are falling solar photovoltaic prices, refrigerant gas prices, Internet of Things, CO2 heat pumps and reduced maintenance costs as predicted and managed remotely.
The future will see heat from solar and waste heat recovery, new age refrigeration systems (retailers going transcritical CO2), other sources of energy storage such as thermal, electrical (flow batteries – Redflow – new gen with significant opportunities in industry) and cooling (phase change materials) become more mainstream.
If you're interested in continuing the conversation on energy, connect with Scott or Heath Barker.
Kevin Norman from NCEA dropped by the Wiley stand to meet the Kuka KR6 Agilus robot, nicknamed Raff, which is primarily used for picking and packaging in food processing facilities.
Great to see @Wileytalk – leaders in #foodtech #RaffWileyMe pic.twitter.com/G5gfTJlJeT — Kevin Norman (@Allawishus) June 26, 2016
Stay tuned to the website for our top finds from each day of the show.